Artificial light can be used to enhance fish colours and aid plant growth. Because of the close proximity to water, we use lighting that is splash-proof and light tubes that are specifically designed for aquatic use. The most common form of lighting available are now LED and fluorescent tubes and they can range from a single, standard tube to power compact, high output or multiple light tubes in "luminaires" which span across open topped tanks.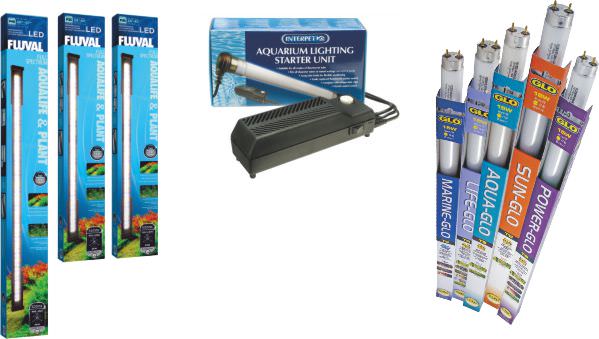 Choose from standard T8, high powered T5 or the incredible brightness of suspended metal halide lighting. Any lighting can be further enhanced by the addition of a reflector, which can increase the brightness considerably.
Live plants may need two or more light tubes to aid their growth, and some marine corals are demanding of very bright light so use T5 or metal halide lighting for them
Although beneficial, too much lighting can cause nuisance algae to grow so it should be on for no longer than 10-12 hours per day. Plug lighting into a timer so it comes on daily and at the same time.
Keep reflectors and cover glasses clean, and replace fluorescent light tubes every 12 months.