Informal Design Tips
When constructing an informal pond your imagination and budget are the only real limiting factors whilst adhering to the basic rules of pond design already covered.
Informal pools give limitless scope to incorporate many different design features and textures into your water garden. Many different man made and natural materials can be used in the construction of your feature including decking, stone, walling, cobbles and sleepers etc.
In the example below we show the use of a waterfall to link pools.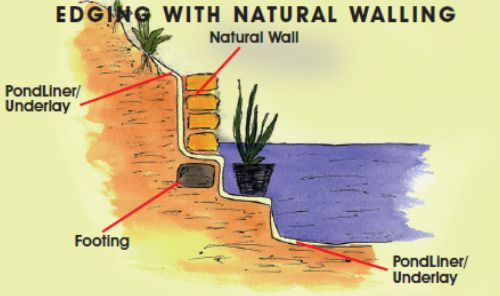 Pebble and Rock Pools Design Tips
The use of pebbles and gravel in gardens is very popular and this is no exception when it comes to water gardens, with the glistening wet stones adding another dimension to your creation. The photograph shows the result of using gravel and pebbles combined with planting and a beautiful feature, with water bubbling gently from it.
Plants can be placed in suitable pots straight into the gravel, or soil pockets can be hidden under the gravel so that the plants are not restricted in growth. The pump and hoses can be hidden under stones. Remember the pump should be housed in an accessible reservoir chamber as illustrated.
Important: - A heavy-duty liner should always be used for all pebble & gravel pools.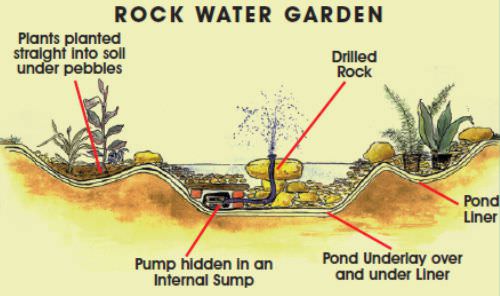 Adding a Pond Feature Fountain
Here we show a simple illustration of how you would position a fountain in a pool. It must be remembered that heavy fountains may need additional support under the liner, this can be created by installing a footing under the liner when first building the pond or if already constructed use a large slab to distributed the weight (it is best to use some old liner or underlay between the slab and pond liner)