Formal ponds either raised or at ground level, are ideal on patios or lawned areas. Careful consideration should be taken in the design stages when choosing your edging method. When edging with slabs, it is advisable to position the slabs before excavation to create your pool template. This will also limit the number of slabs which require cutting. Crazy paving can provide an easy but attractive alternative especially on pools with curved edges. It is also possible to purchase a "round circle" of slabs from paving suppliers, which could create a perfect edge for a round pond!
Should you desire a heavy stone fountain in the pool, which looks effective in many formal situations, it may be necessary to form a concrete footing in the base of the excavation to support the weight of the fountain and its base before installing the liner.
Tips on Formal Ponds:
Careful measurements will be required to ensure the pool is square.
If circular, use a centre peg and string to create your shape.
Curved patio slabs can be purchased to create curves and circular shapes.
Filtration will need consideration.
Ensure ducting for cables is laid before paving surrounding areas.
Remember to consider filtration position during the planning stage.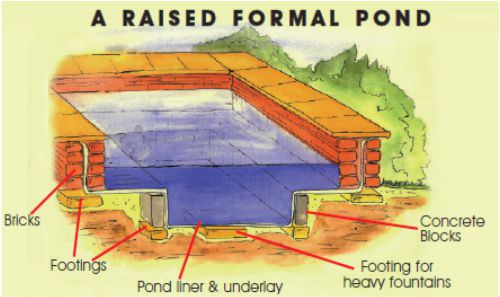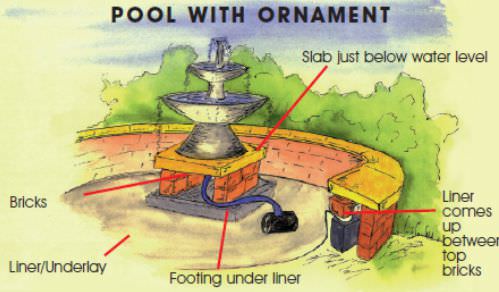 Jug Features
Installed with a submersible pool pump to gently pour water into the pond, circulating and oxygenating the water effectively