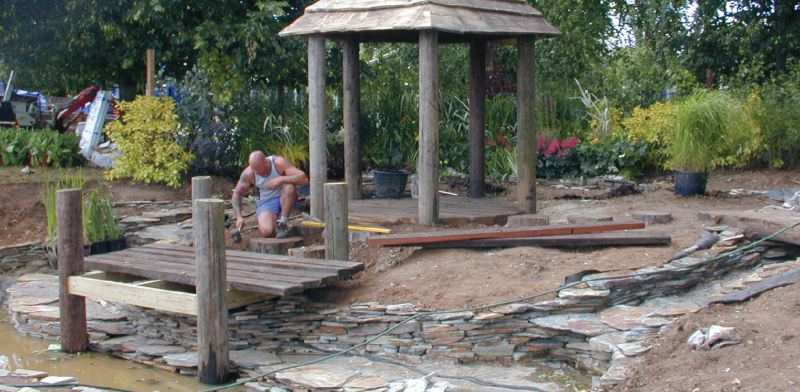 Flexible Pond Liners
Liners are the most popular and cost effective way of creating a garden pond. They are available in a wide range of materials and sizes and allow you to make a pond of any shape. Remember that the manufacturers guarantee does not include punctures -so it is worth taking care to install correctly, using a good quality underlay.
There are many different types of pond liners available. World of Water stock a large range from budget to heavy duty liners.
All are quality liners offering long life. The budget liners are ideal for smaller simpler pools where children and pets are less likely to damage the liner. Heavy duty liners are ideal for larger pools and situations where they need to be more durable.
Preformed Ponds
Pre-formed ponds are made out of plastic or fibreglass, and are available in a wide range of shapes and sizes. They are extremely durable, and are popular with many, because once installed they have a smooth surface without creases. Don't be misled into buying one too small for your requirements - they look far bigger out of the ground than they do when they are installed. You will be able to see examples of pre-formed pools both out of the ground and installed at any of our centres, to give you an idea of the difference in scale.
Concrete Construction
This is the least popular method as it can be more expensive than other methods. Foundations must be solid and reinforced to prevent cracking if the subsoil shifts during the course of the year. Once rendered, the pool must be painted with at least two coats of a purpose made pond paint.
Important Consideration Siting Ponds
Siting any ponds in areas prone to waterlogging or where there is a high water table must be avoided due to
the risk of damage. This can be avoided by having a fully or a partially raised pond.
No sunken pond should be emptied if the ground is saturated with water. Ground water will fill the excavation from under the liner causing serious damage.
Partially raised ponds should not be emptied below ground level in wet conditions, as above.
Raised Ponds should be safe to empty in most conditions.
If emptying any pond ensure you drain the water well away from the pond. This will stop the drained water running under the liner and causing damage.
Damage caused by poor siting or external water pressure would not be covered by any warranty.
REMEMBER: - Should a liner or a preformed pool fail once it has been installed, the guarantee will only cover the replacement or repair of the liner, not the installation costs, so World of Water have made sure they only sell top quality liners. Care must be taken to avoid exposed liner showing above the water level once it has been installed. Not only does it look unsightly,but also sunlight can slowly degrade it.