Sometimes what really makes a pond impressive is one or two features that are unusual. Why not incorporate a bridge or some stepping stones, or even build a small jetty.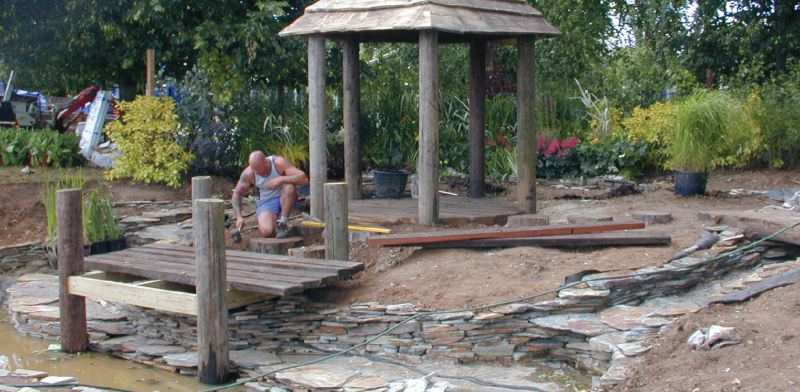 Thoughts about such a feature needs to be put in at the planning stage as some of these features will need extra footings (support) under the pond liner. This will mean that all the weight will be taken by a concrete pad under the liner avoiding any chance of subsidence. Even small bridges should have concrete bases on either side of the pond to sit on firmly.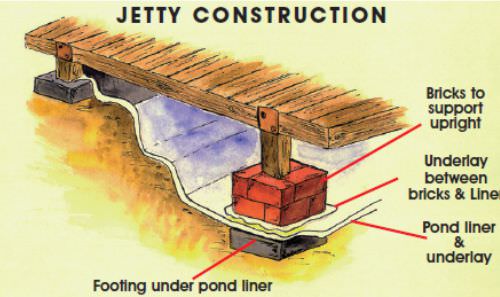 Construction Tips
When constructing bridges, jetties or stepping stones you will need a footing under the liner.
After you have excavated your pool, work out where you will need the footings.
Dig out another 15cm deep area the size of the stepping stone, fountain base or about 45cm square for a jetty support, carefully calculating the position of the footing.
Fill and level these holes with concrete (3 sand/gravel to 1 cement).
Leave for at least 24 hours before placing underlay and liner on top. (Protect from frost while cement sets)
Position another piece of underlay above the pond liner and footings.
Build up with brickwork, for stepping-stones take the brickwork up to water surface level, and then place your stepping stone on top.
With a jetty you will only require enough bricks to brace the upright wooden leg.
For fountain plinths, take the brickwork up to about 15cm below the water surface level and place a slab for the fountain to sit on. This will allow only the feature to be visible.